A Nation That Cares
Let no debt remain outstanding...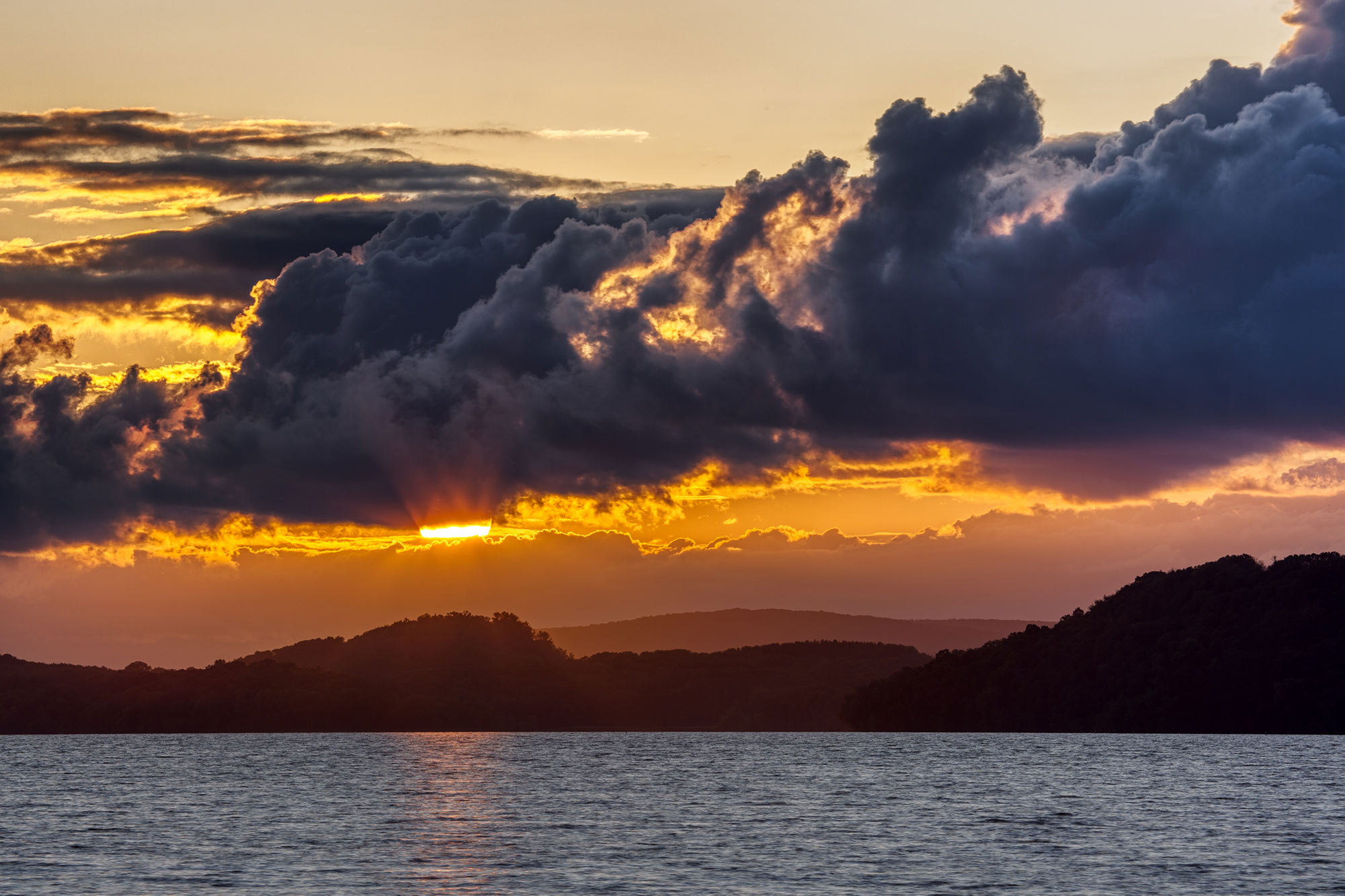 $650,684.22
raised of $5,000,000 goal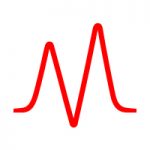 Campaign Created By
RIP Medical Debt
Join Our Campaign Now!
There are millions of families in the US currently strapped by medical debt. Imagine having that weight on your shoulders, while still recovering from health issues, trying to support your family with through inflation, global unrest and uncertainty.
Your church can provide relief to 403,104 of these families who are struggling with medical debt. They each owe an average of $1,000 for medical treatment, and you can wipe it away right now with RIP Medical Debt's Lenten campaign – A Nation that Cares.
We all have a close friend or a relative who requires ongoing care for cancer, diabetes, or heart disease. They walk into a care facility with hope for healing. They walk out with staggering medical bills. If they're lucky, insurance will pay for most of it, but never all of it. For millions of Americans who are underinsured or not insured at all, it's a sentence to years of debt servitude that far outstrips their annual income. Medical debt is demoralizing. The savings are gone. All plans for financial security in retirement and for one's children evaporate in an instant. To be stranded in debt is to feel abandoned and alone. Resources available to help are few and unevenly distributed across the U.S.
"But if anyone has the world's goods and sees his brother in need, yet closes his heart against him, how does God's love abide in him?"

1 John 3:17
Churches and other faith-based nonprofits have demonstrated how love abides by relieving $1 billion in medical debt directly for members of their communities over the last 4 years! These acts of grace have made it easier for almost 1 million people to make financial decisions that improve the quality of life for their families.
But there's so much more work to do! In fact, some communities present so much debt that not even several significant faith-centered campaigns could relieve all the debt available, leaving approximately $500 million in debt for Americans outside of all past and current debt relief campaigns. This campaign seeks to raise $5 million dollars to relieve that debt. Can we push the boundaries of love from sea to shining sea?
This year, we are building a coalition among our partners in communities of faith to make a large act of debt relief for Americans across the country, regardless of where they live! Our goal is to raise $5 million to relieve roughly $500 million of medical debt. In the present times, rife with discord and polarization, this act of love demonstrates we are a nation of people who cares about their fellow Americans. Jesus Christ's love knew no boundaries. As we celebrate His birth, let our charity know no bounds as well.
Where debt is going unaddressed in communities across the nation, access to care also recedes. Sadly, just the fact that an individual owes medical debt, according to the Journal of the American Medical Association, decreases the likelihood that they will seek health care treatment.
As we aspire to love like Christ, we are challenged to extend the embrace of our love and compassion many times throughout our lives. You've seen the power of debt relief in your own communities; would you like to create that impact across the country? Let's join together to eliminate this insidious debt trap for all Americans! It's a trap that has snared people like Vanessa, who has a job and insurance.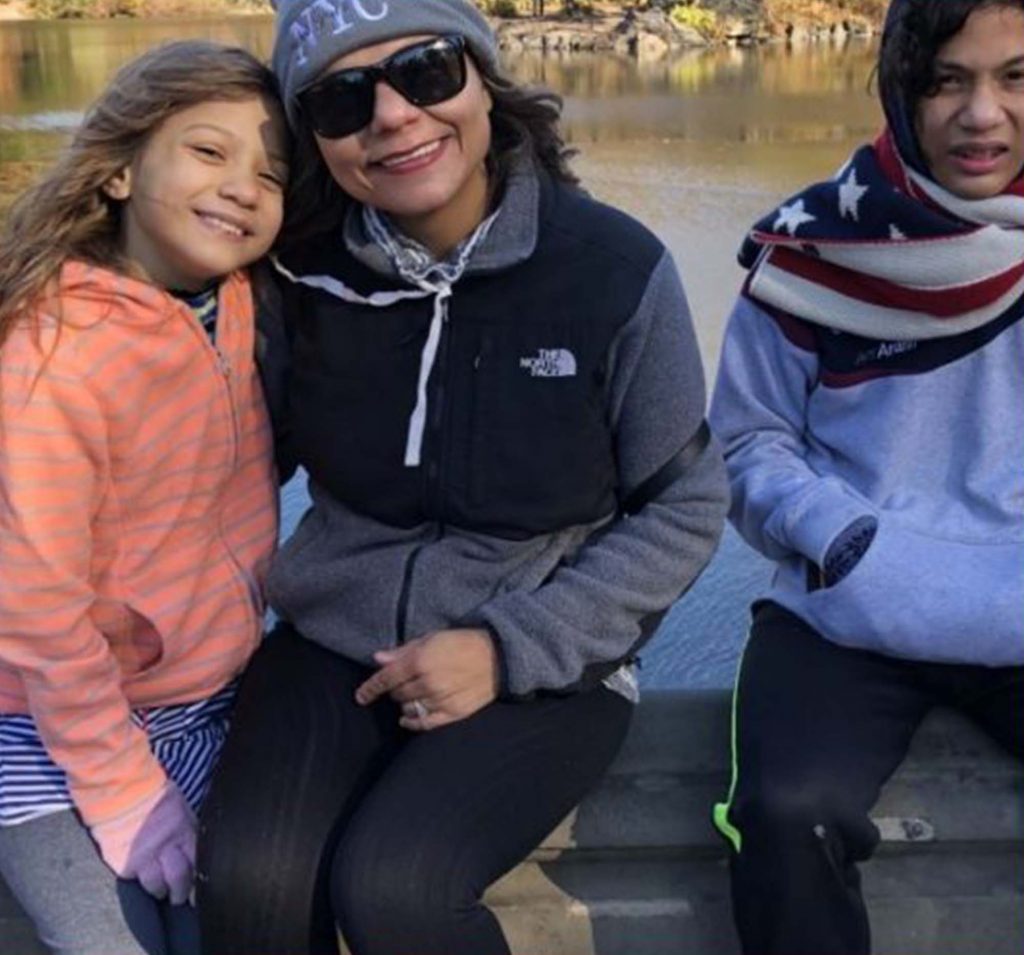 "I had insurance and I was working. But the co-pays were a lot. That's why I was so thankful. I didn't expect anything; it just showed up. I don't think a lot of people think it's real. I was very surprised. You're doing amazing work, especially now!"
—Vanessa, RIP Medical Debt Beneficiary
Romans 13:8 entreats us:
"Let no debt remain outstanding, except the continuing debt to love one another, for whoever loves others has fulfilled the law."
But when 65% of all bankruptcies in the U.S. are directly related to medical debt, we know that the biller's expectations have exceeded the patient's ability to "let no debt remain outstanding." These debts are not the result of poor choices, and the only way to remove them is to galvanize the collective strength of our community. In this case, it is the American community. Medical debt is a uniquely American problem and no one living here is free from the threat of financial ruin due to one accident or illness.
This campaign is for people like Kyra, a mother and transplant survivor.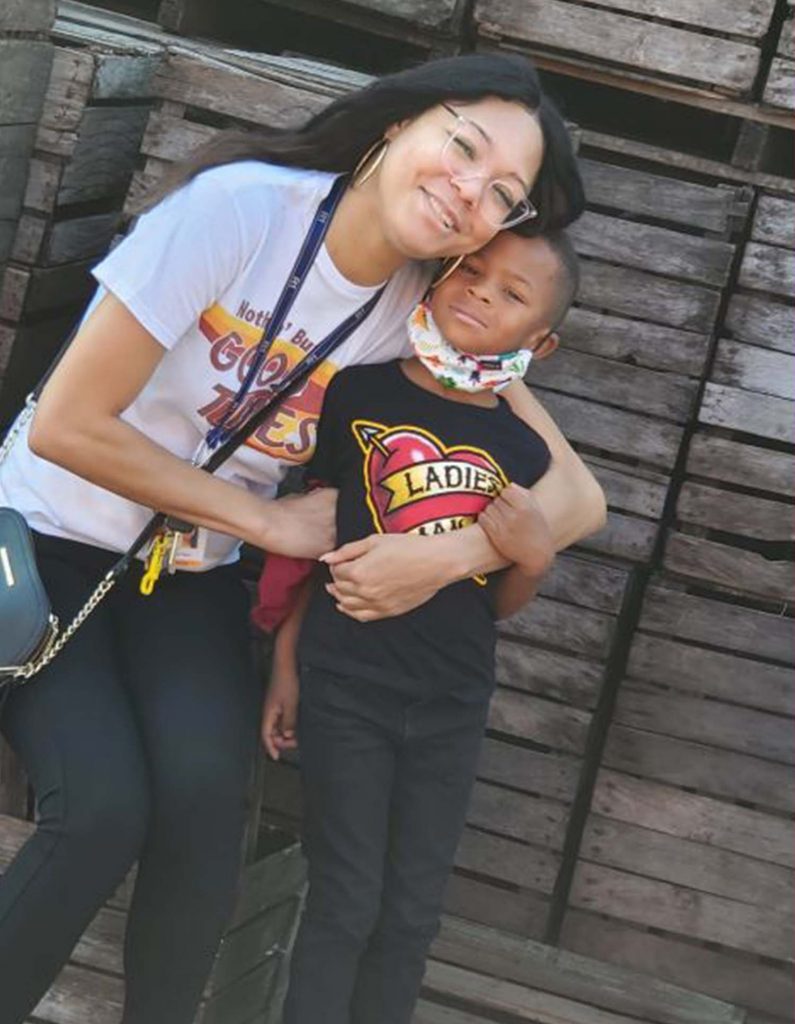 "I received a letter from you guys stating you paid off a medical bill. First and foremost, thank you. I have been through so much with my health these past few months. I'm now a post-transplant survivor. You guys are amazing angels sent down from the big man himself. Once again, thank you and you guys truly have a spot in my heart."
—Kyra, RIP Medical Debt Beneficiary
Faith holds us together when the walls feel like they are collapsing. We have hope that the condition of life on Earth can improve through our perseverance. While faith and hope can provide comfort on the journey, they are not actions which can improve the condition of our brothers and sisters across the nation. We know that by loving our neighbor as ourselves, we bring earth closer to heaven. The apostle Paul reminds us,
"So now faith, hope, and love abide, these three; but the greatest of these is love."

Corinth. 13:13
Love is how we care for others. Our acts of love can plant the seeds of hope and faith in our fellow Americans, who encounter these unbearable financial obligations through no fault of their own. Jesus spent his life serving the poor and the sick, setting an example for all his followers. He dispelled any confusion about why when he said,
"This is my commandment, that you love one another, as I have loved you."

John 13:34-35
"Forgiving" medical debt, though there has been no transgression on behalf of the patient, is the jubilee this country needs. All Americans crave liberty, and those of us who enjoy it can grant it to our neighbors currently indentured to pay debt far beyond their capacity. How can we rejoice in the presence of such inequity?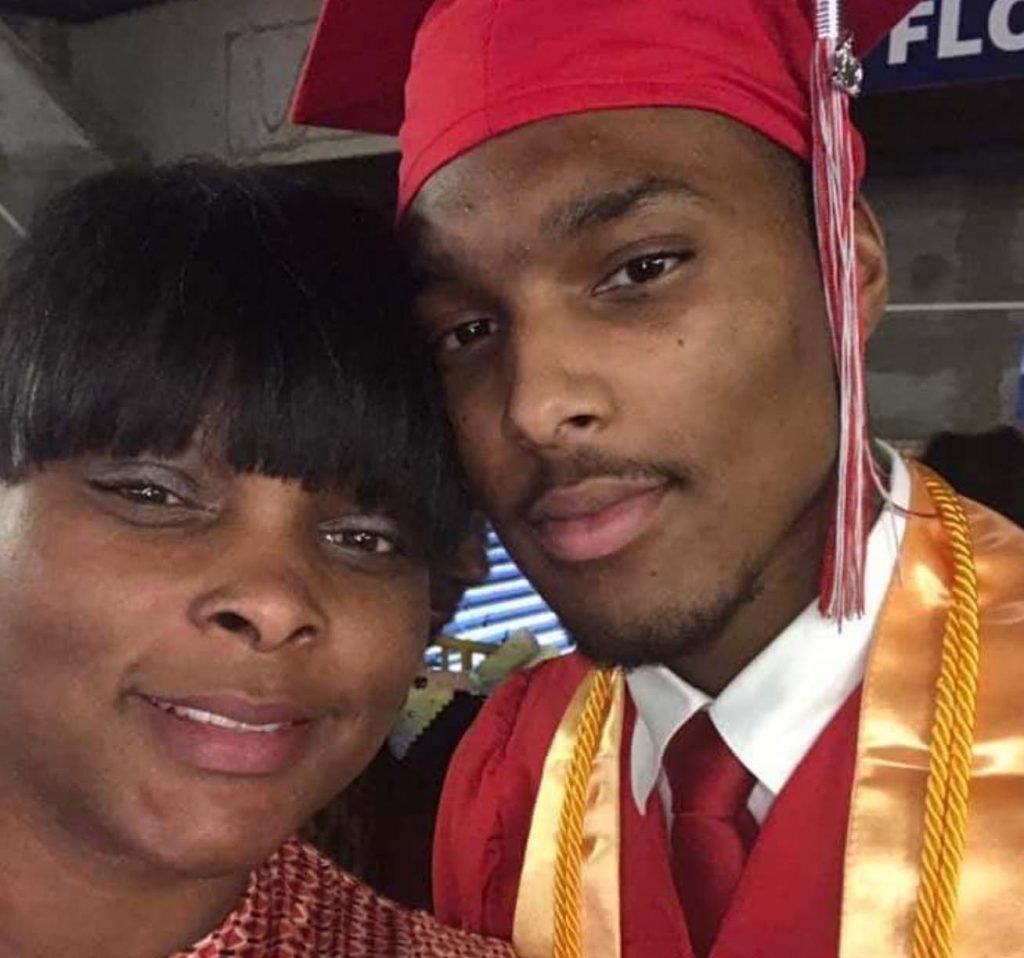 "This gift was such a tremendous blessing to me in more ways than the debt relief itself. I have never in my life gotten anything that says "total debt $7,809.00, balance: abolished." Thank you for your generosity and choosing me for this blending. May your organization be blessed and remain blessed in all things."
—M., RIP Medical Debt Beneficiary
Will you consider sharing this campaign with your congregation and other centers of worship within your denomination or conference? Let's do this together! And though Christian churches are leading this effort, the campaign is open to congregations of any faith, as well as the charity of individuals outside of places of worship. If you have special questions or would like to start a campaign exclusively within your church, contact Rachel Katz at [email protected].
Click through the slides below to see thank you notes from previous beneficiaries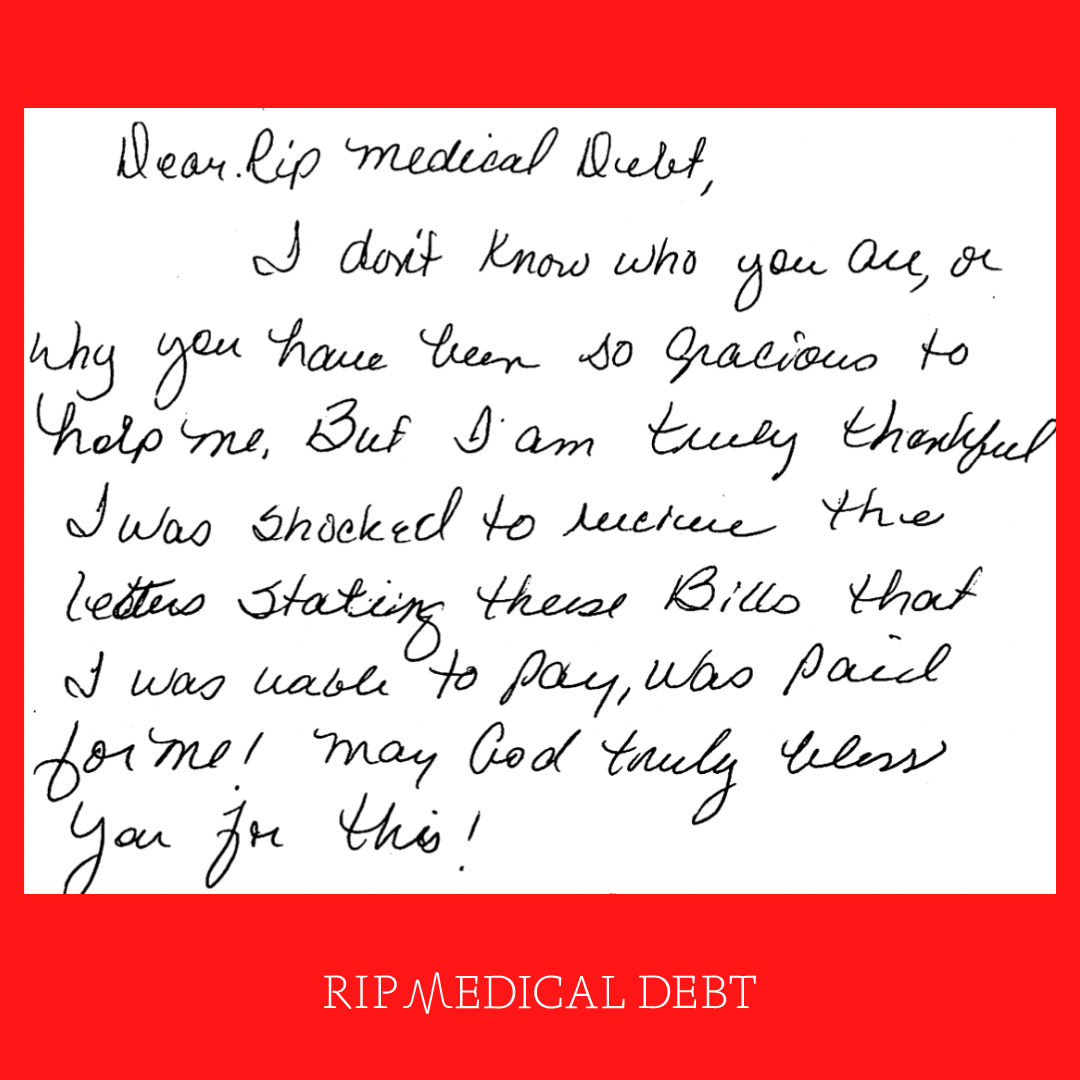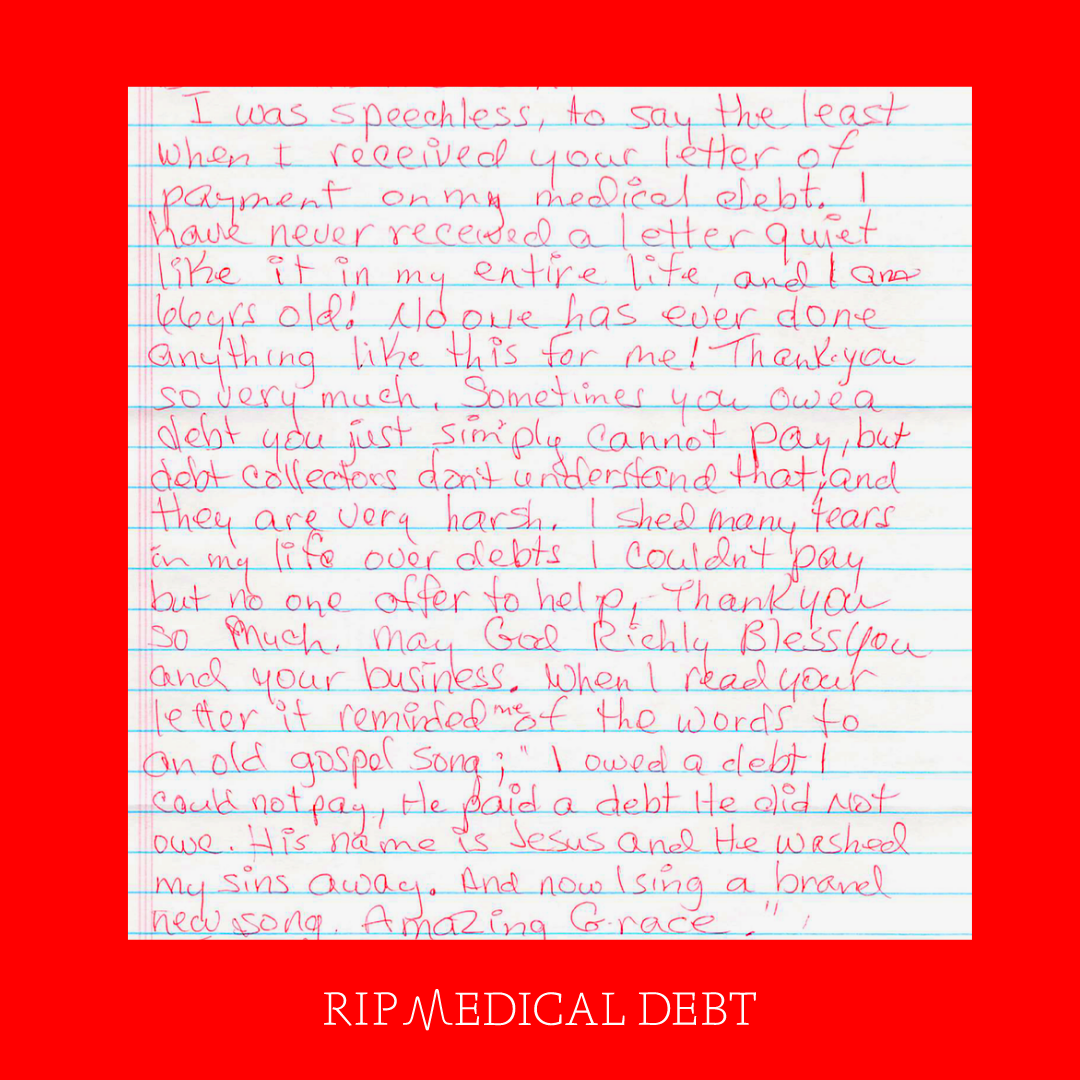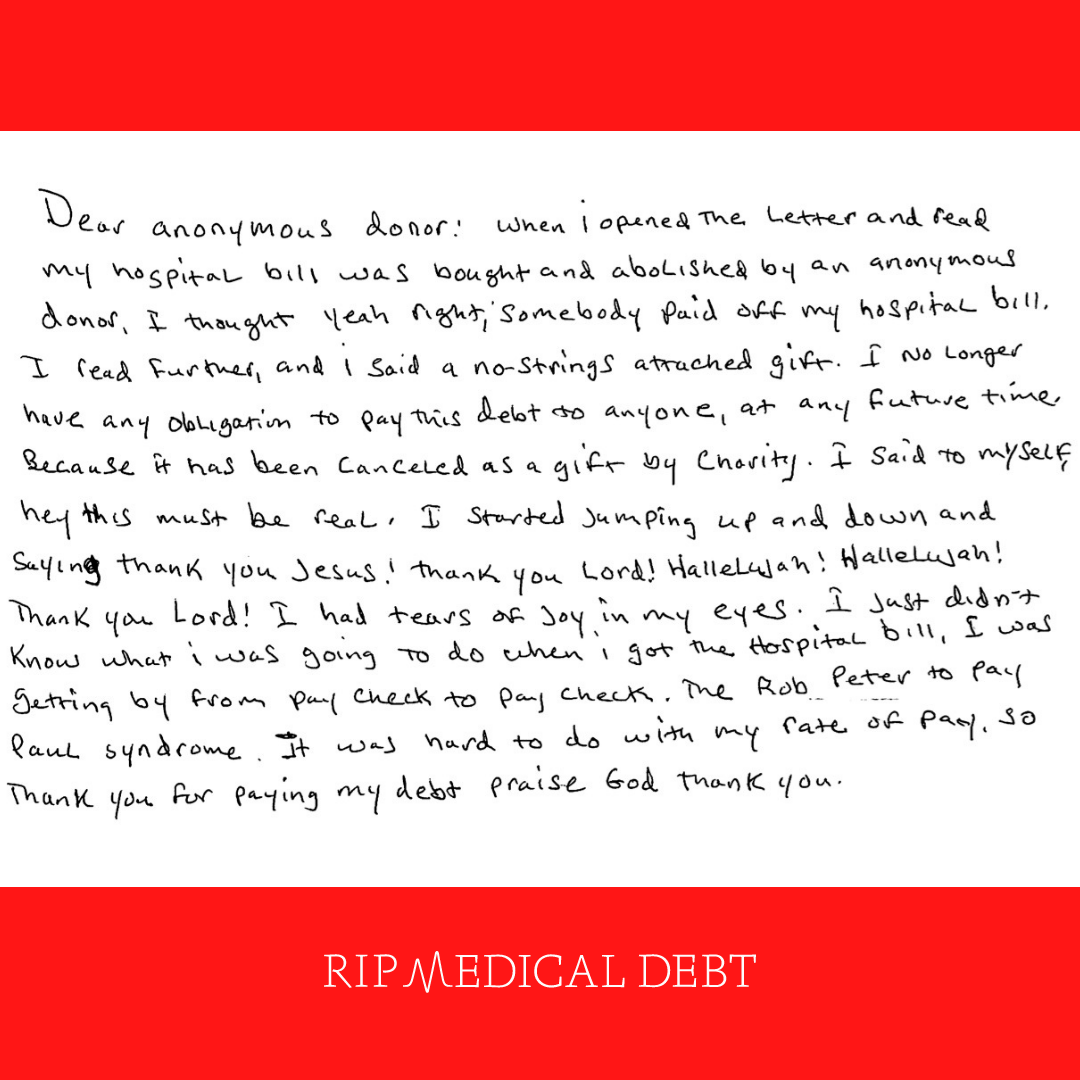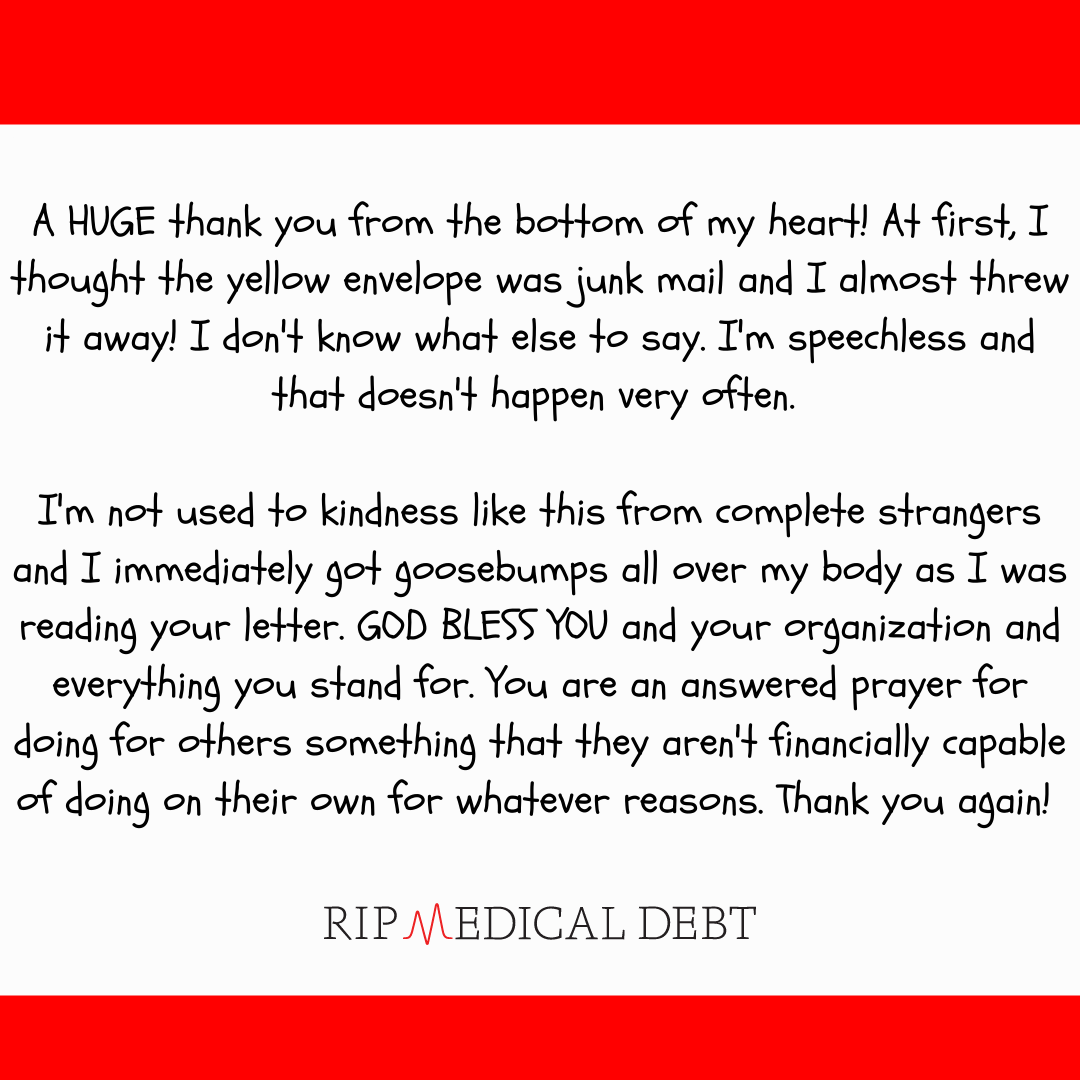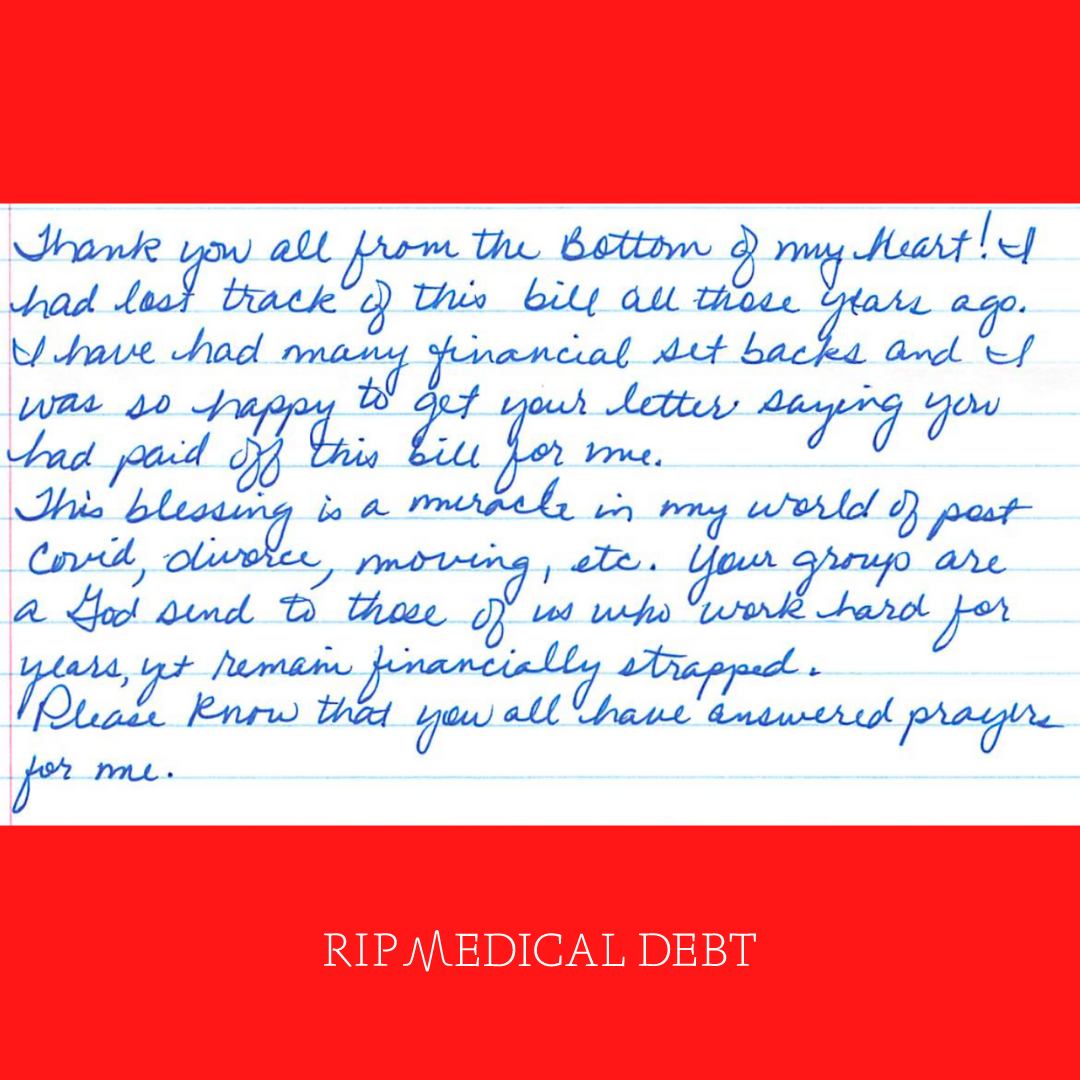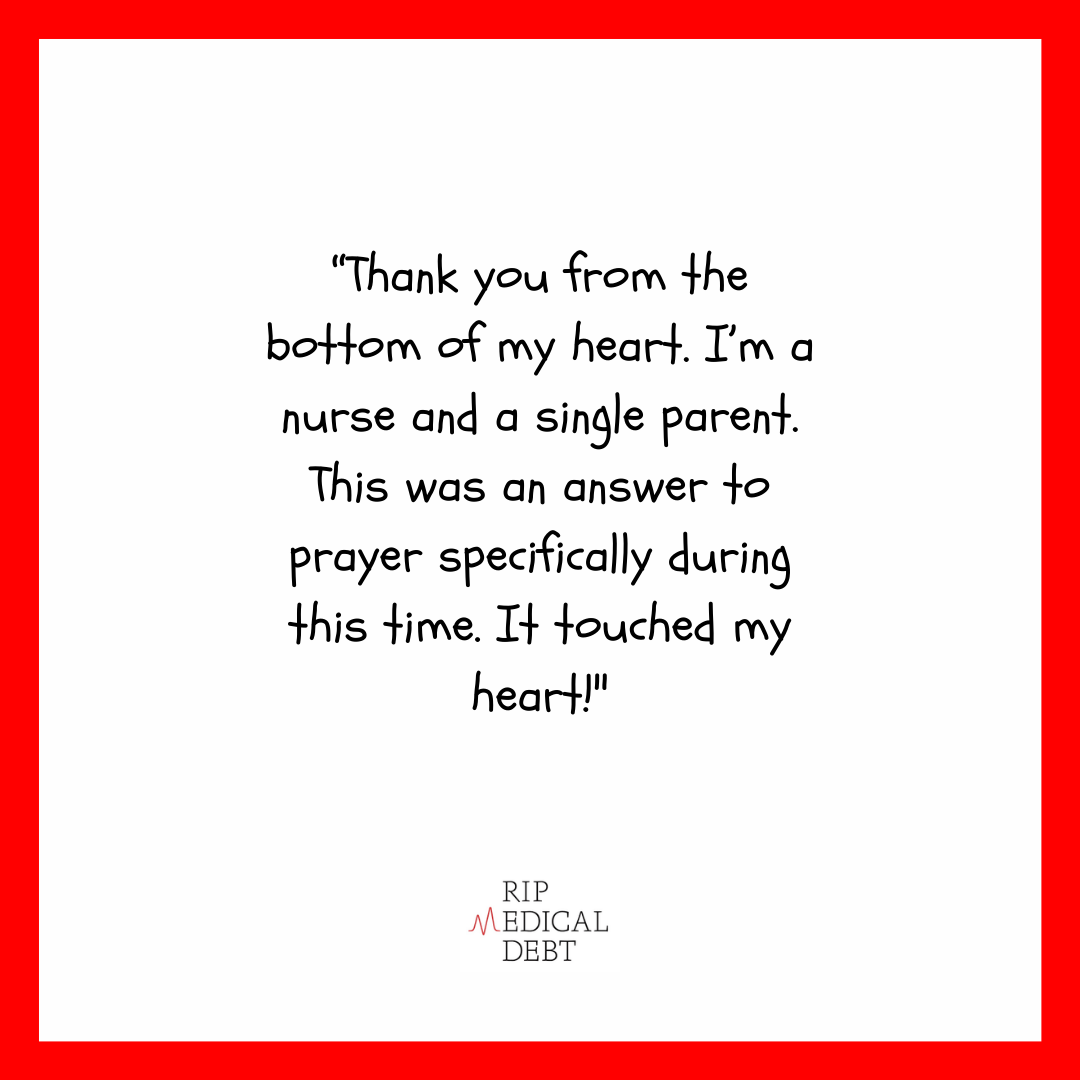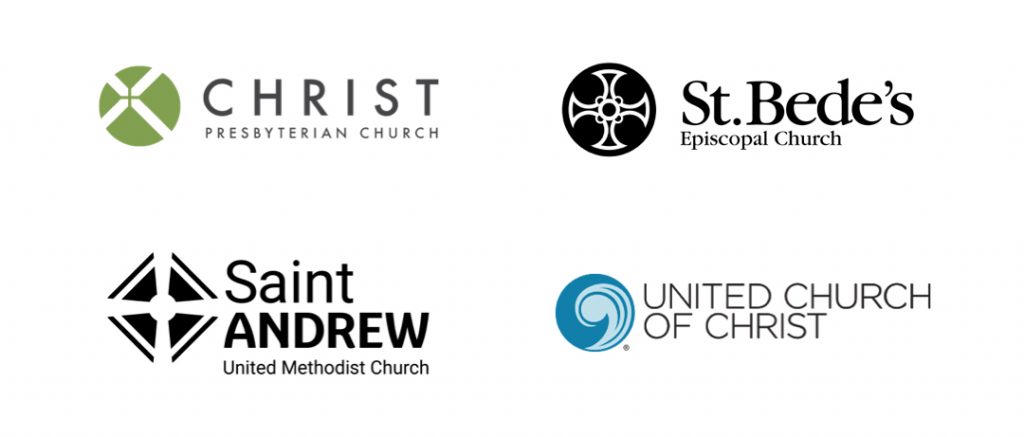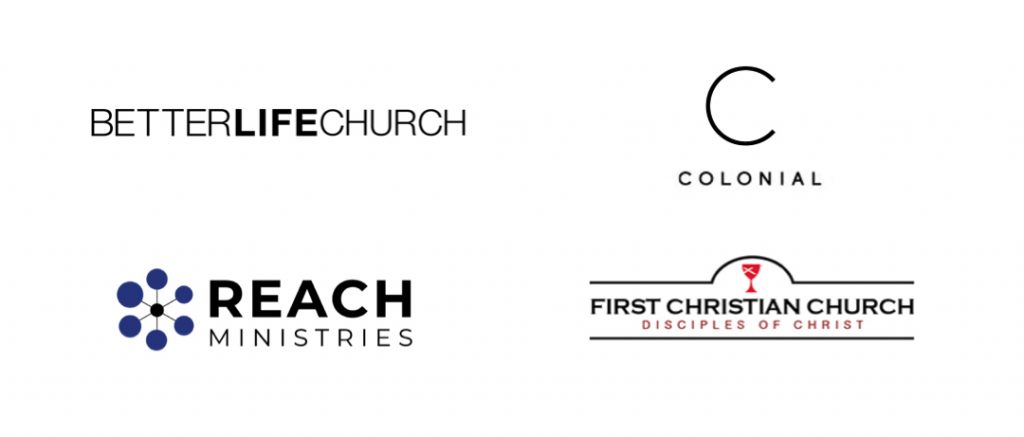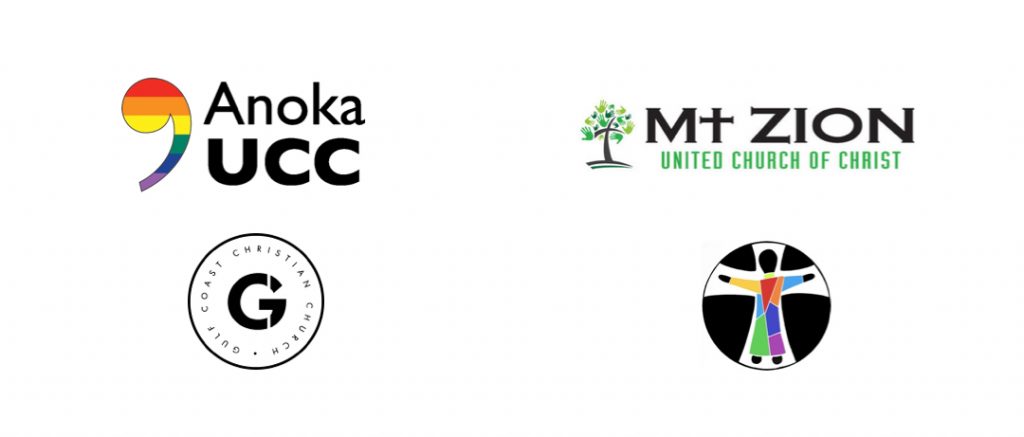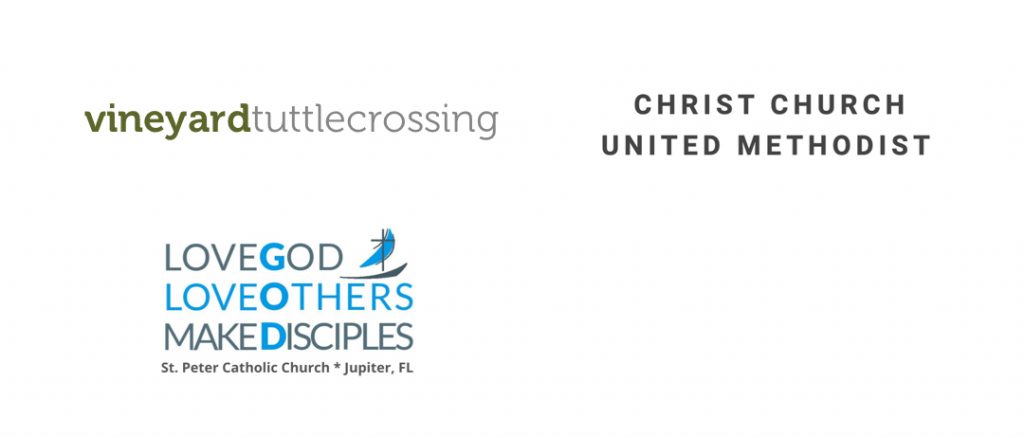 Contributing Churches
Campaign Support Recipients
Recent Donations

Anonymous

just donated $27

Anonymous

just donated $106

Anonymous

just donated $1,000

David H.

just donated $100

Anonymous

just donated $106

Anonymous

just donated $106

Green Oak Citizens Club

just donated $1,000

Anonymous

just donated $265
$650,684.22
raised of $5,000,000 goal
Recent Donations

Anonymous

just donated $27

Anonymous

just donated $106

Anonymous

just donated $1,000

David H.

just donated $100

Anonymous

just donated $106

Anonymous

just donated $106

Green Oak Citizens Club

just donated $1,000

Anonymous

just donated $265
Fundraise for This Campaign
Start a fundraiser to help those in need. Set a personal fundraising goal and track online donations easily with RIP.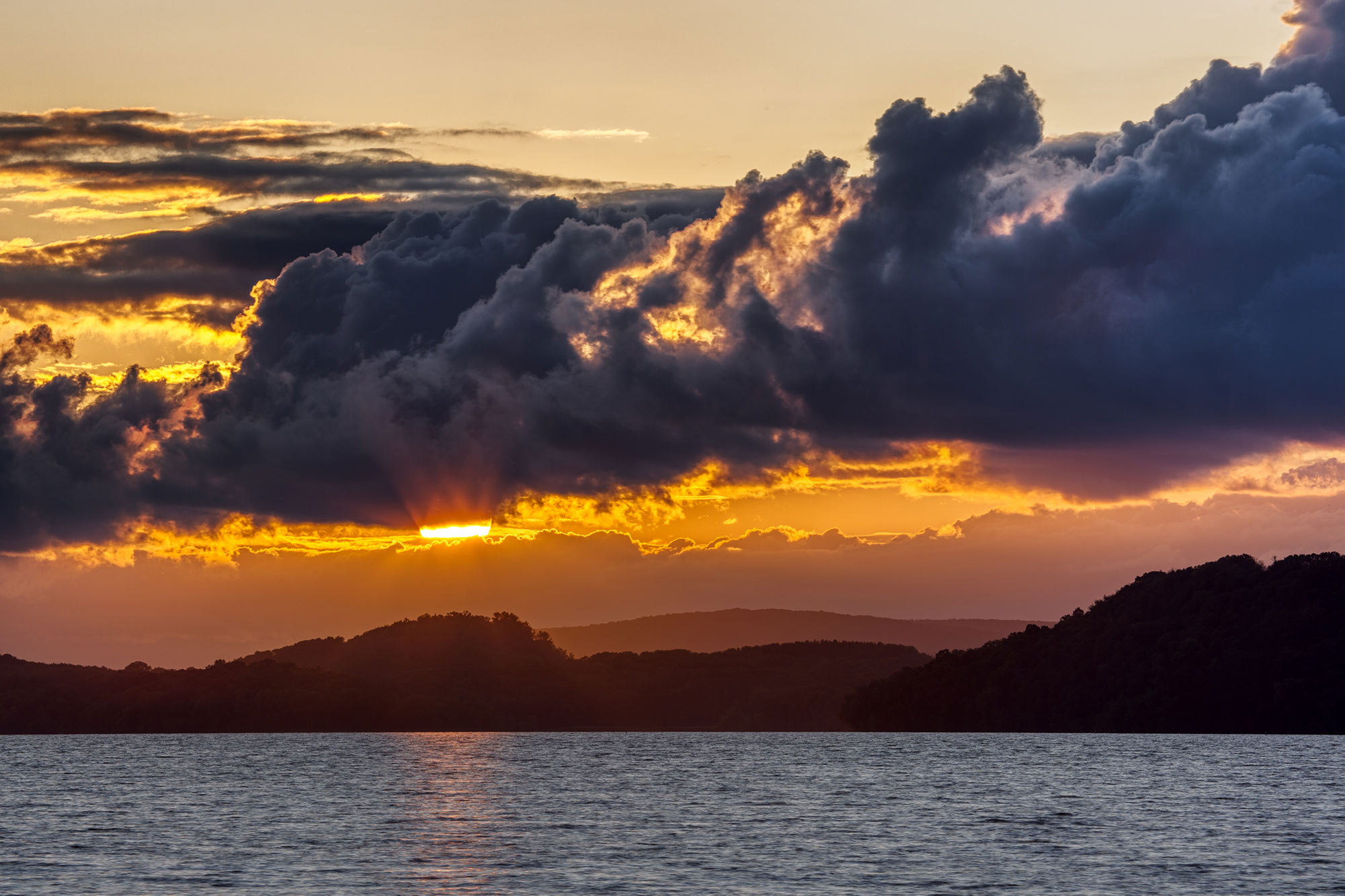 How RIP Works
Over a hundred million Americans, one in three, struggles with the weight of medical debt.
You make a donation

We use data analytics to pinpoint the debt of those most in need: households that earn less than 4x the federal poverty level (varies by state, family size) or whose debts are 5% or more of annual income.

RIP buys medical debt at a steep discount

We buy debt in bundles, millions of dollars at a time at a fraction of the original cost. This means your donation relieves about 100x its value in medical debt.

Together we wipe out medical debt

People across the country receive letters that their debt has been erased. They have no tax consequences or penalties to consider. Just like that, they're free of medical debt.
---
Frequent Questions
Yes. We are a 501(c)(3) charity and your donation is 100% tax deductible.
---
Relevant Documents:
When we purchase a portfolio of medical debt, we abolish debt for individuals who:
Earn less than 4x the federal poverty level (varies by state, family size).
Debts are 5 percent or more of annual income.
We only buy debt that has been pre-qualified by our partners to meet at least one of these criteria.
We never collect on debt we purchase, only relieve it.
No. With your help, we abolish medical debt permanently. Recipients have no adverse tax consequences, obligations, or strings attached.
For those whose medical debts are relieved, the relief is a gift from a detached and disinterested third party (RIP) as an act of generosity, so relief of the debt does not count as income to the debtor. We will not file a Form 1099-C with the IRS.
Due to HIPAA laws, RIP Medical Debt cannot disclose the names, contact information or any other specific details of the debt relief beneficiaries.
RIP Medical Debt cannot relieve debt by individual request.
While we would love to help everyone who needs assistance, RIP Medical Debt cannot abolish medical debt for specific individuals. We approach the problem of medical debt by acquiring large portfolios of debt to help thousands of people at once.
Because medical debt affects so many people who may not have debt accounts in the portfolios we purchase, we have compiled a list of resources that may be able to help in ways RIP Medical Debt cannot.
Ready to Launch Your Own Debt Relief Campaign?