END MEDICAL DEBT: COVID RECOVERY EDITION
---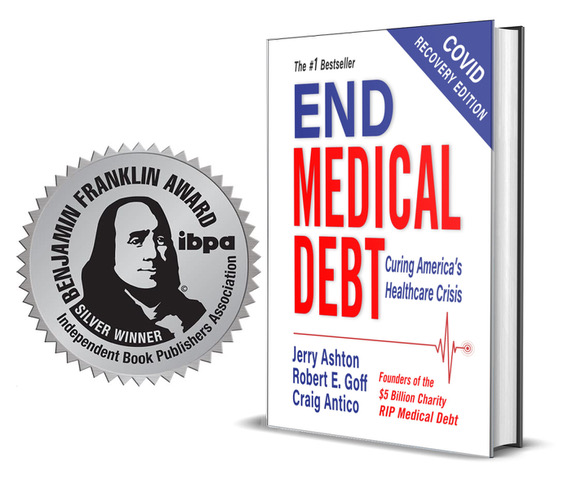 ---
Introducing a new way to help those in need.
Curing America's Healthcare Crisis
End Medical Debt, The COVID Recovery Edition is now available where all books are sold. From the founders of RIP Medical Debt, the only nonprofit in the nation that raises funds to purchase and abolish medical debts belonging to people in financial need. All proceeds go back to RIP, so every book sold will relieve, on average, $500 of medical debt.
This updated, re-issuing to the #1 bestselling book in health policy is written by three industry veterans with diverse perspectives and covers how the nation can learn from the COVID crisis and envision a more equitable system of healthcare.
Amid all the urgent debate over rising healthcare costs and shrinking coverage, we have overlooked the devastating personal and social impact of an estimate $1 trillion in unpaid and unpayable medical debt.
End Medical Debt offers clear-eyed insights on America's broken healthcare system and what we each can do about it.
End Medical Debt covers:
The recent revelation that Americans owe $140 billion of medical debt, and how that figure is likely much higher
How individuals can advocate for themselves in a healthcare setting and after having received care
Various ways of fixing our entrenched and bloated healthcare system (each author brings a unique perspective, from a self-proclaimed progressive to more conservative approaches)
Advanced praise for End Medical Debt:
"End Medical Debt is one of the best books I've read that explains how our healthcare system became a voracious monster, and the steps we can take, individually and collectively, to keep it from devouring us."

Wendell Potter — Center for Health and Democracy
"End Medical Debt is special because it advocates for systemic change, while providing tactical solutions for Americans now facing the devastating burden of medical debt.

Rohan Pavluri — Upsolve, TED Talk