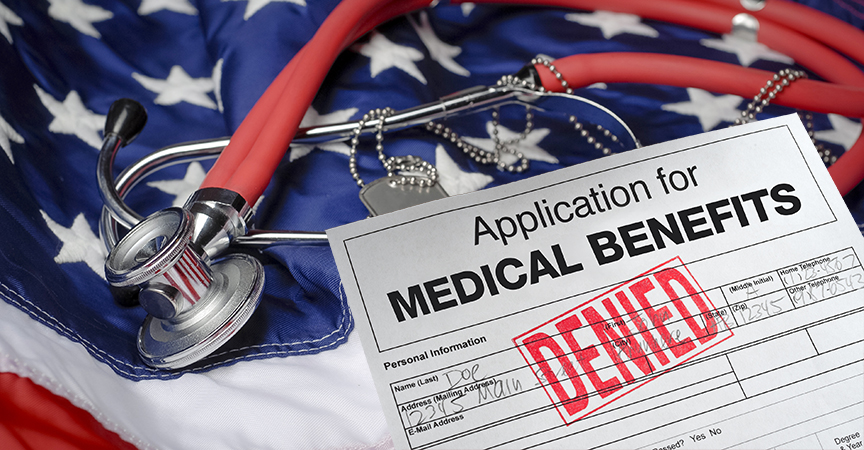 Overview
---
A day for discussing the medical debt of veterans and active-duty military. A day of problems and solutions.
WHAT
RIP Medical Debt convened a mini-summit on the terrible, worsening problem of the unpaid and unpayable medical debt that burdens our veterans and active duty military alike.
"Healthcare" in America has become too confusing, too costly to deliver, too expensive to receive. The impact too often is worse for veterans and military.
Veterans medical debt reflects the general population. About 15 million people in the USA annually become insolvent (use all their savings and go into more debt for their health care). About 1 million people with medical debt every year go bankrupt. Bad credit scores from medical debt can keep veterans or anyone from renting an apartment or even getting work.
Men and women in the armed forces are nearly twice as likely to file complaints about debt collection as the general population. As a consequence, the VA created a Community Care Call Center to help resolve debt collection issues that resulted from inappropriate or delayed "Choice Program Billing."
WHO
Attendees included thought leaders from military charities and veteran organizations, physicians and nurses, philanthropists, technology innovators, and foundations.
Technology partners at the summit were TransUnion Healthcare, TheNumber, and Obashi.
Also represented was the University Team. (MIT, University of Chicago, UC Berkeley, UCLA) now conducting the first-ever economic impact study of forgiving medical debt. The very first RIP Mini-Summit in June 2017 focused on launching this study.
Participating in the panel discussions was the Veterans and Liaison Services of Northwell Hospital.

Who was Invited?
Veterans or active duty personnel with influence or a story to tell.
Leaders of veteran-centric nonprofits.
Highest levels of the VA and VA hospitals.
Hospital, physician and nursing thought-leaders
– especially if working with veterans.
Philanthropists, Social Impact Investors.
Public Officials — Elected and Appointed, Local/State/Federal.
Health Insurers
Debt Buyers
Academics.
Foundations.
Military Activists.
Medical Debt Activists.
Journalists — Any Media.
WHY
Veterans are at unique risk for medical debt. The problem must be understood. Action must be taken. Consider some facts:
About 90,000 veterans each year are denied coverage based on the "prudent layperson" standard (attend the summit to learn more). This practice saves the VA approximately $3 billion annually, but such "cost shifting" belies our American belief that no veteran should be left behind.
Bills for unexpected emergency room visits outside the VA are routinely rejected. These bills become the vet's responsibility to pay. The stress from collection calls for an unpayable bill can compound PTSD.
Veterans may suffer long-term health issues that can outlast their benefits from Veterans Affairs. GiveForward in 2010 estimated that 1.3 million uninsured U.S. vets have out-of-pocket medical expenses exceeding their disposable incomes.
HOW
The Veterans Medical Debt mini-summit is a creation of RIP Medical Debt. The event is free. No tuition. No entrance fee. As an organization that forgives debt, we have forgiven the event cost, too. For good.
Summit Participants
VETERANS AND MILITARY
Hutch Dubosque
President, PTSD Veterans Association of Northport, Inc.
Nicole Eisenhauer
Director. American Initiatives for Military Support
Juan C. Serrano
Program Director, Military Vet Liaison, Northwell Hospital Veterans and Liaison Services
Robin A. Wilkins-Toombs
Founder, Executive Director, Boots Up
Richard Ventimiglia
Officer and Nassau County Delegate, Veterans of Foreign Wars, Post # 325
ORGANIZATIONS
Institute for Veterans and Military Families
Iraq and Afghanistan Veterans of America (IAVA)
Leave No Veteran Behind
NYC Veterans Alliance
Patton Veterans Project
Services for the UnderServed
FRIENDS & SUPPORTERS
OBASHI
Fergus Cloughley, Paul Walis
Henry George School of Social Science
Marcial Cordon
One Zero Capital
Vishal Garg, Ziggy Jonson
TransUnion
Andrew Goldstone
Fordham
Linda Infantino — Representing Dr. Falguni Sen, John Kirbow
Karenrand Associates NYC
Jana Knauerova
ARxChange
Joseph E. LaManna
Health Begins
Rishi Manchanda, MD
Fort Schuyler Advisors
Paul Mangione
Nixon Peabody
Michelle Masucci MD
Dini von Mueffling Communications
Dini von Mueffling, Daniel Lempert, Ted Sann
Ferry Farm Capital
Dom Savino
Transformative Communities
Ted Schulman
Denny Buehler Memorial Foundation
Jennifer Spring, Ed Buehler
RIP Student Intern
Harrison Schlossberg
TheNumber
Hans Thomas, Guhan Kandasamy
Christa Rapoport
Holly Lang
Kimberly Bolen
ORGANIZATIONS
The Brain Fund
Consumer Finance Protection Bureau (CFPB)
Physicians for a National Health Program
Agenda
MISSION
Many segments of society play a role in veterans medical debt. They have not really been talking with one another — really hearing each other — so sensible solutions can be created. The RIP Veterans Medical Debt Mini-Summit will offer an environment of problem solving rather than finger pointing. People will come away enlightened and invigorated with plans that can make a difference. Essentially, the mission is creating clarity and action.
SUMMARY
The morning session featured introductions of attendees and two panels staffed by both civilian and military thought leaders. RIP cofounder and CEO Craig Antico announced our recent success in locating, buying and forgiving medical debt for veterans. RIP cofounder and EVP Jerry Ashton facilitated the morning panels, ensuring questions were raised and answered to fulfill the mission of realistic understanding and effective action.
The afternoon working session addressed the problems and solutions identified in the morning session. Those representing veterans and the military connected with experts in the banking, collections, insurance, philanthropic, medical, and technology industries.
OUR VETERANS CAMPAIGN
At the mini-summit, RIP will announce our campaign to raise enough in donations by the end of 2017 to buy and abolish $50 MILLION in unpayable veterans and military medical debt.
---
SCHEDULE
8:30 – 9:00
Coffee and croissants and mingling.
9:00 – 12:00
Morning session: Introduction of speakers and attendees, two panels, and a Q&A Jerry Ashton as the moderator. (Break at 10:30).
12:00 – 1:00
Lunch with sandwiches and soft drinks.
1:00 – 3:00
Afternoon discussion about necessary and possible solutions for veterans and military struggling to handle medical bills beyond their ability to pay.
About RIP
RIP Medical Debt is a not-for-profit 501(c)(3) charity, based in New York, established in 2014 to abolish unpaid and unpayable medical debt. Funded by donations from individuals and organizations, RIP locates and buys "portfolios" of medical debt (for pennies on the dollar) and then simply forgives the debt, no strings attached — a random act of kindness.
RIP Leadership at the Summit