RIP Medical Debt Takes Home Innovation Award at 2nd Annual NYC Imagine Awards
Acknowledging nonprofit excellence, RIP was also awarded a $5,000 grant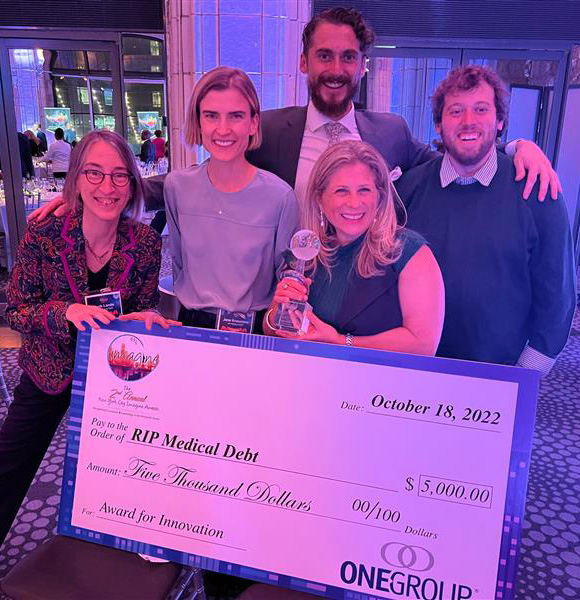 Queens, NY – Wed, Oct 19 – RIP Medical Debt (RIP) is thrilled to have won the 2022 Innovation Award at this year's NYC Imagine Awards. The Imagine Awards were created to acknowledge NYC's most effective nonprofit organizations. With nearly 250 applications submitted for the 5 award categories, this recognition is all the more gratifying.
The OneGroup Innovation Award is for the nonprofit that has "been innovative in adopting new platforms that have led to a significant increase in the organization's ability to meet its mission. This could include the implementation of technology that enables the organization to achieve cost savings and better communication; a strategic approach to fundraising; a unique and effective public relations campaign." To date RIP has abolished over $7 billion in medical debt for over 4 million individuals in financial need.
"It's a great honor to have received this award last night and it really speaks to the commitment and vision of our entire team," shares RIP President, Allison Sesso. "I'd also be remiss to not acknowledge all the other incredible nonprofits that are working to make NYC healthier and more equitable. We're honored to be in their company and deeply appreciate this acknowledgement of our model's effectiveness."
The Imagine Awards were founded by Ken Cerini of Cerini & Associates, an accounting and audit firm that specializes in vetting nonprofit ventures. Other sponsors of the event include Aetna and Webster Bank.
About RIP Medical Debt
RIP Medical Debt (RIP) is a national 501(c)(3) nonprofit that was founded in 2014 by two former debt collectors. To date RIP has acquired — and abolished — over $7 billion of burdensome medical debt, helping over 4 million families and addressing a major social determinant of health. RIP purchases debts for a fraction of their face value in bundled portfolios and partners with individuals, faith-based organizations, government, foundations and corporations to empower donors by converting every dollar contributed into $100 of medical debt relief on average.
RIP also partners with hospitals and health systems and physician groups to acquire medical debt for abolishment. RIP rose to national prominence on an episode of HBO's "Last Week Tonight" with John Oliver in which RIP facilitated the abolishment of $15M in medical debt.
In December of 2020, philanthropist MacKenzie Scott donated $50 million to RIP to help uplift struggling communities. To learn more, visit: https://ripmedicaldebt.org
About The Imagine Awards
The Imagine Awards was created in 2012 for Long Island by Managing Partner, Ken Cerini of Cerini & Associates, LLP. It's continued success prompted the expansion into the NYC metro area to honor organizations of all types and sizes and the people behind them. The NYC Imagine Awards recognizes outstanding nonprofit performances in the region.  Learn more about the NYC Imagine Awards, visit https://nycimagineawards.com/
---